Design your own Social Wall!
Contentfry's displays are predesigned Social Walls that you can customize with just a few clicks: first, choose your Social Wall type, then select the style of the tiles, and lastly, adapt the colors, fonts and more. With contentfry's displays you can quickly and easily show your social media feed on your website, app or screen.
«Grid» - the standard Social Wall
When using this display, the size of the tiles automatically adapt to the content of each post. This makes for a smoothly flowing pattern. «Grid» is an all-rounder which can be used as a web or screen display and is equally suitable for image and text content. You can choose from more than nine different tile designs.
View live: Grid Display, Style East Side
«Squares» - for the prettiest images
If you have loads of great images to show off, this display is for you! Move the mouse over one of the images to reveal the accompanying text. It will appear on the back of the flipped image or on a highlighted background right in the image itself. The tile size is fixed which gives your display a clean look.
View live: Squares Display, Style Squared




«Timeline» - the Social Wall with news character
«Timeline's» vertical alignment is ideal for content that should be presented in a clear chronological order. This neat and structured display is perfect for content that focuses on text.
View live: Timeline Display, Style Hemingway
«Slider» - the space saver
«Slider» changes its content in regular intervals. You can choose if the posts are displayed automatically or if by clicking, the user can scroll horizontally. This display is ideal if you have a lot of content but only little space left on your website. You can use «Slider» as a widget in a defined area of your website or animated on a screen.
View live: Slider Display, Style Timor


«Waterfall» - the flowing Social Wall
«Waterfall» lets your posts flow smoothly across your screen. This display is based on the Social Wall type «Grid» and therefore comes with the same advantages: the seamless blending of posts, its ideal suitability for mixed image and text content, and a wide selection of different tile designs. «Waterfall» was designed for screens.
View live: Waterfall Display, Style Bucharest
«Slideshow» - one thing after another
In a type of slideshow this display shows one post after another. A minimal zoom effect in the image gives «Slideshow» that special something. This display is particularly suitable on screens but can just as well be integrated into websites.
View live: Slideshow Display, Style East End



---


Stylish tiles for every type
Playful, minimalist or creative: for each Social Wall type you can choose from up to ten different tile designs. Which style you end up choosing depends on the type of content and the character of your brand.
---


Brand identity for the Social Wall
Use the style editor to further customize your Social Wall — and make sure it truly fits your brand. Colors, font (Google or web safe fonts), font size, frames, and shadows are only a few of the options. You can also choose the speed at which the content is displayed, the spacing between the tiles or where a click shall take the user.
---


Easy integration into your website
Using contentfry's displays makes integrating social feeds extremely easy, regardless of your technical skills. For the integration on your website you will receive an iframe code or a JavaScript/iframe code. To display the Social Wall on a screen you will receive a URL.
---
See for yourself!
The new displays are now available. Try them out! Log in to contentfry and choose the room you want. The new displays will appear in the menu bar on the right.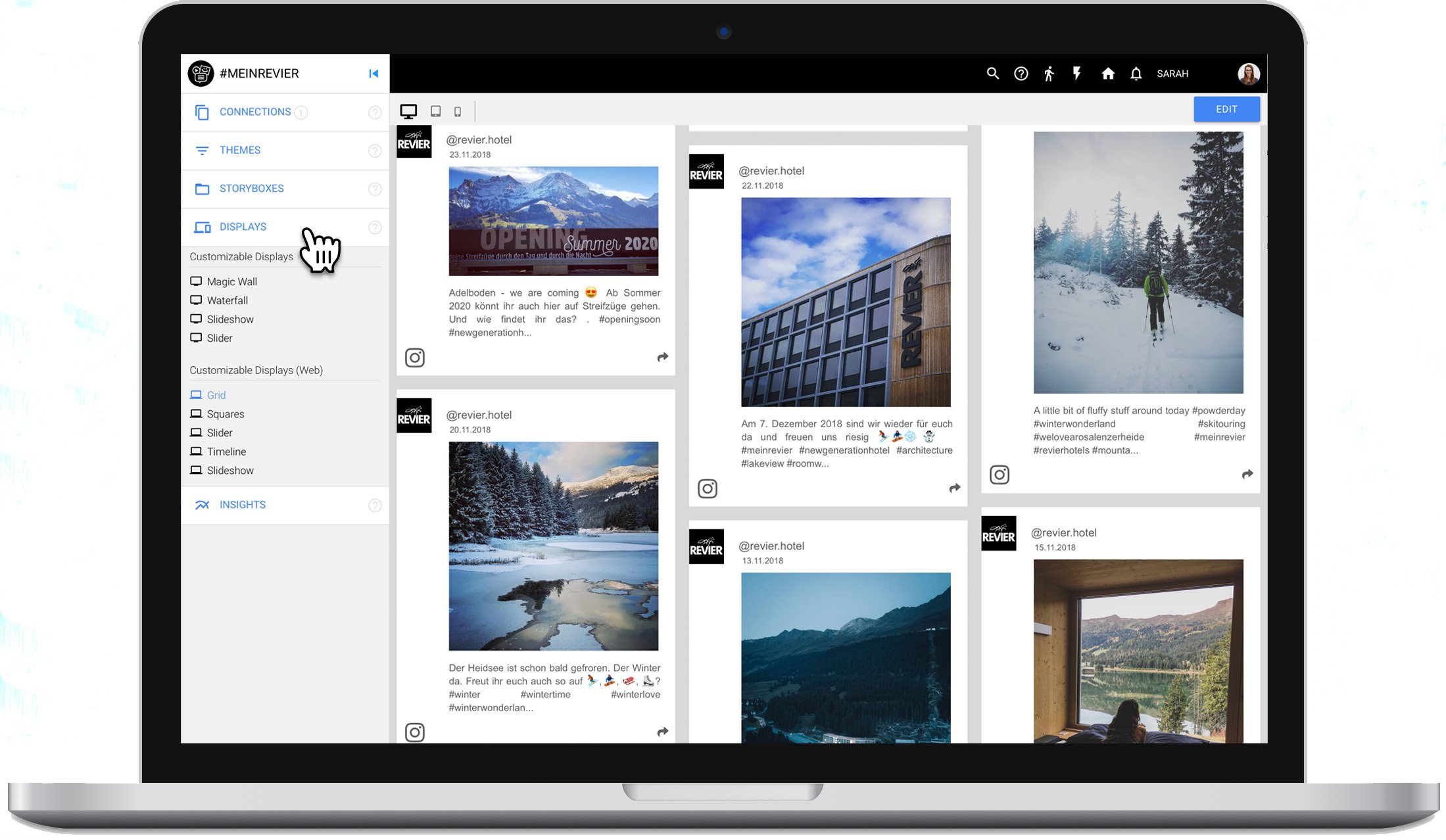 ---